This article belongs to Phineasnferb. Please ask him/her/them before editing the article. If you do so without asking, or if the owner(s) say(s) no, you will get a warning. If you continue, you will be blocked.

(July 23, 2013)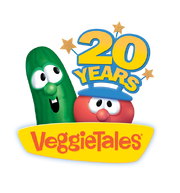 A special version of the VeggieTales theme song, made exclusively for VeggieTales Birthday Clip-O-Rama! This is not related to my version of the theme song at all.
Scenes used
There's one scene from almost every show in the series.
The monsters in Junior's dresser pop out ("Where's God When I'm S-Scared?")
Junior in the truck ("God Wants Me to Forgive Them?!?")
Larry tries to get the candy off his helmet ("Are You My Neighbor?")
Laura flying to the factory ("Rack, Shack, and Benny")
Goliath falls to the ground ("Dave and the Giant Pickle")
The penguins on sleds ("The Toy That Saved Christmas")
Larry singing ("Very Silly Songs")
The Larry Mobile turning into a plane ("LarryBoy and the Fib From Outer Space")
A slushy lands in front of the ark ("Josh and the Big Wall")
Madame feels woozy ("Madame Blueberry")
The penguin sneezes ("The End of Silliness?!?")
Larry calling Mayor Blueberry ("LarryBoy and the Rumor Weed")
King George brushing his duck ("King George and the Ducky")
Xerxes and Haman with thumbs up signs ("Esther: the Girl Who Became Queen")
The peas dancing around Sven ("Lyle the Kindly Viking")
Larry hitting the machine ("The Ultimate Silly Song Countdown")
Go Fish ("Jonah: a VeggieTales Movie")
Milward driving the carriage ("The Star of Christmas")
Bob gets hit by the door ("The Ballad of Little Joe")
Ebeneezer visits his grandma's grave ("An Easter Carol")
Snoodle Doo flying ("A Snoodle's Tale")
The gourd finally gets his fan open ("Sumo of the Opera")
Otis flying off his horse ("Duke and the Great Pie War")
Minnesota saves Julia ("Minnesota Cuke and the Search for Samson's Hairbrush")
Toto and Randolph watching fireworks ("Lord of the Beans")
Don charging to the Food Factory ("Sherlock Holmes and the Golden Ruler")
Petunia untangling LarryBoy ("LarryBoy and the Bad Apple")
Gideon falling over ("Gideon: Tuba Warrior")
The peas in the painted desert ("Moe and the Big Exit")
Darby, Scarecrow, and Tin Man running into each other ("The Wonderful Wizard of Ha's")
Huckleberry Larry screaming ("Tomato Sawyer and Huckleberry Larry's Big River Rescue")
The camel spitting on the camera ("Abe and the Amazing Promise")
Bob counting ("Minnesota Cuke and the Search for Noah's Umbrella")
Junior singing in town ("Saint Nicholas: A Story of Joyful Giving")
Pistachio and Khali get swallowed by a whale ("Pistachio")
Larry with a skunk ("Sweetpea Beauty")
Larry trying to sip coffee ("It's a Meaningful Life")
Howard Green auditioning ("Twas the Night Before Easter")
Laura and Vanna Banana singing ("The Princess and the Popstar")
The Sand Speeder camel ("The Little Drummer Boy")
The veggies running with food ("Robin Good and His Not-So Merry Men")
ROTFL ("The Penniless Princess")
Scooter saying "MADNESS!" ("The League of Incredible Vegetables")
The pigs holding signs ("The Little House That Stood")
Randy in church ("The League of Incredible Vegetables Return!")
Milward hiding the time machine ("The Crisper County Charity")
Larry in his cubical ("The New Job")
Billy the Baker ("Minnesota Cuke and the Temple of Dough")
The Milk Money Bandit in jail ("LarryBoy and the Waffle Overdose")
Mia and Candace ("Coast to Coast: The Story of the Cucumber of Florida")
Larry's final game ("Where's God When I Need Him?")