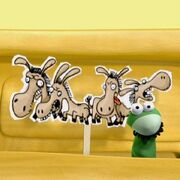 Stories from the Coat Closet is technically the sequel to Lessons from the Sock Drawer. It will include stories and songs, plus 2 stories from Mr. Lunt AKA Paco.
Plot
Larry and Bob are on the countertop when they see a random closet on the wall by QWERTY. Bob opens the door and Lutfi pops out. Bob is having a deja vu moment. Lutfi tells Bob he wants to give kids more lessons and what not. Bob says fine and Lutfi introduces the first story.
Not much happens in between the episodes, unless there is a Paco story segment that is next. But other than that, Lutfi is happy he got to teach kids more lessons, even though the first time he did it it was for a kid named Edmund.
Shorts and Songs (in order)
His Cheeseburger from Madame Blueberry
Daniel and the Lions' Den from Where's God When I'm S-Scared?
BFF (Best Friends Forever) from The Penniless Princess
Sumo of the Opera from Sumo of the Opera
Paco and the Waffle Invaders
My Aunt Came Back from LarryBoy and the Waffle Overdose
Bob's Vacation from God Made You Special
There's a Hole in the Bottom of the Sea from The Wonderful World of Autotainment/Pirate's Boat Load of Fun
Snooderella from Sweetpea Beauty
The Good Egg of Gooseville from The Little House That Stood
Rock On, LarryBoy from LarryBoy and the Bad Apple
The Pirates Who Don't Do Anything from Very Silly Songs
The Story of Flibber-o-Loo from Are You My Neighbor?
Bully Trouble from Minnesota Cuke and the Search For Samson's Hairbrush
Hopperana from T'was the Night Before Easter
Paco and the Latest Craze
Belly Button from The Ballad of Little Joe
Gideon: Tuba Warrior from Gideon: Tuba Warrior
The Grapes of Wrath from God Wants Me to Forgive Them?!?
Donuts For Benny from Saint Nicholas
The New Job from The New Job
Sport Utility Vehicle from A Snoodle's Tale
Continuity
In one of Paco's stories, he brings up the waffle invaders ("LarryBoy and the Waffle Overdose")
In another one of Paco's stories, he brings up Vanna Banana ("The Princess and the Popstar")