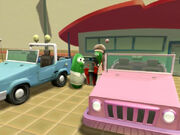 Another installment in the VeggieTales Sing-Alongs series. It was released the same time as Song of the Cebu.
Songs Included
Sport Utility Vehicle from "A Snoodle's Tale"
Pizza Angel (from "Minnesota Cuke and the Search for Samson's Hairbrush")
Look Olaf (from Lyle the Kindly Viking)
I Can Be Your Friend (from Are You My Neighbor?)
I Want to Dance (from A Snoodle's Tale)
Oh Santa! from "The Toy That Saved Christmas"
Schoolhouse Polka (from Sumo of the Opera)
Salesmunz Rap (from Madame Blueberry)
Happy Ki-Yi Birthday from "The Ballad of Little Joe"
Jonah Was a Prophet from "Jonah: a VeggieTales Movie"
Transition
The transition in between songs is a bit from His Cheeseburger Stand Happy Ki-Yi Birthday, The Yodeling Veterinarian of the Alps Gated Community