This article belongs to Phineasnferb. Please ask him/her/them before editing the article. If you do so without asking, or if the owner(s) say(s) no, you will get a warning. If you continue, you will be blocked.

(July 23, 2013)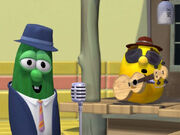 Another installment in the VeggieTales Sing-Alongs series. It was released the same time as Endangered Love.
Songs Included
Larry's Blues from "Duke and the Great Pie War"
Boids from "An Easter Carol"
Big Things, Too! (from Dave and the Giant Pickle)
South Dakota from "Sherlock Holmes and the Golden Ruler"
I Can Be Your Friend (from Are You My Neighbor?)
His Cheeseburger (from Madame Blueberry)
The Bunny Song (from Rack, Shack and Benny)
The Rumor Weed Song from "LarryBoy and the Rumor Weed"
The Yodeling Veterinarian of the Alps (from The End of Silliness?)
The Promised Land (from Josh and the Big Wall!)
Chapter Selection
The instrumental for Chapters 1-4 is Larry's Blues
The instrumental for Chapters 5-8 is The Rumor Weed Song
The instrumental for Chapters 9-10 is The League of Incredible Vegetables
Transition
The transition between songs plays a bit from BFF (Best Friends Forever)
From Veggietales: Happy Together!